When your company is missing the mark with product quality, delays, or customer satisfaction, it's time to explore ways to improve your quality management system (QMS) . A high-functioning QMS is crucial for manufacturers as it ensures that products meet specific quality standards and comply with relevant regulations. Implementing a comprehensive QMS that takes advantage of modern technology and other tools helps you continuously improve your processes, identify issues early, and build trust with your customers.
In this article, we will explore seven effective ways to improve quality management systems in order to stay on top of operations with an efficient, safe, and ethical supply chain.
Key Takeaways
Quality management software is an integral part of improving quality management systems.
Consolidate data and include supply chain partners in your QMS to improve communication, visibility, and product quality.
Implement procedures, training materials, and ethical standards to ensure consistency for your brand across the supply chain.
What Is a Quality Management System and Why Is it Important?
A quality management system (QMS) is a set of business and manufacturing practices aimed at finding ways to:
maintain product safety and quality
improve customer satisfaction
manage the needs of all relevant stakeholders
The most recognizable standard for establishing QMS best practices is the International Standard Organization (ISO) 9001:2015 "Quality Management System Requirements." ISO 9001 contains seven quality management principles (QMP), including customer focus, leadership, engagement of people, process approach, improvement, evidence-based decision-making, and relationship management.
A quality management system based on these principles is essential for keeping your customers safe and protecting your brand. Luckily, there are easy ways to implement these standards to improve your own QMS.
7 Effective Ways to Improve Your Quality Management System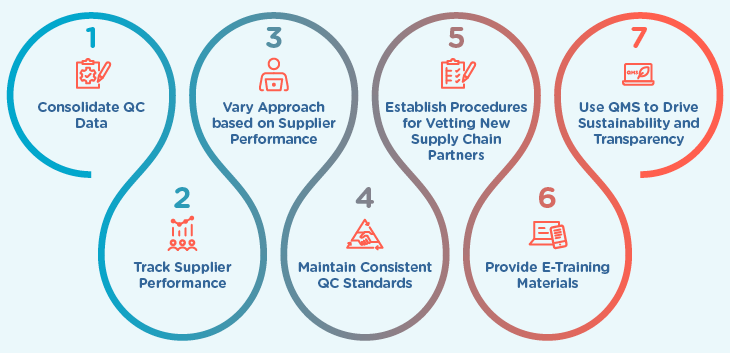 Whether you already have a mature QMS, or still establishing one, the following tactics will help you continuously improve your quality management system and ensure that it keeps contributing to your business success and customer satisfaction.
1. Consolidate Quality Control (QC) Data
Today, even small businesses have supply chains with global reach. Most modern companies rely on multiple suppliers and supply chain partners. Disparate and siloed management systems can make it impossible to see the real state of material or manufacturing quality in some, if not all, parts of your sourcing ecosystem.
Professional quality control and compliance software can bring all of your supply chain stakeholders to one transparent platform, allowing you to consolidate scattered and siloed inspection data and leverage it into actionable results.
This means consolidated, cross-checked data and detailed QC reports available from a single source- enabling your quality team to spot trends, identify high-risk parts of your supply chain, and proactively intervene before quality issues spin out of control.
2. Make Supply Chain Performance Visible
With real-time and accurate supply chain data distilled into actionable insights, you can make any quality, compliance, and sustainability markers visible to your supply chain partners and stakeholders as you deem relevant.
Access to shared insights helps foster collaboration, keep all connected partners on the same page, and contributes to informed and timely decisions in every part of your supply chain. Supply chain visibility enables your quality management system to address issues more comprehensively and with input from all relevant stakeholders.
3. Vary QC Approaches Based on Supplier Performance
Performance in your sourcing network can vary significantly from supplier to supplier, meaning you should have more than one approach to quality management.
When your QMS has the ability to capture supplier performance data, consolidate it, and present it to you in an easy-to-understand way, you can use those insights to create a risk profile for every supplier. Based on that information, you can decide how much attention each supplier needs.
Mature manufacturers with a good track record can be empowered to self-inspect parts of your production order, while new and high-risk suppliers will need third-party inspections. Having the data to make these decisions will help you make the best of your quality control budget and manage your supplier relations effectively.
4. Roll Out Consistent Quality and Compliance Standards
When suppliers and inspectors work from standardized processes and specifically designed workflows, it makes it much easier to monitor adherence to quality and compliance requirements and to ensure that your quality data is internally consistent.
Professional QMS software can come pre-bundled with a library of checklists and templates designed by industry experts based on best practices. It also has the ability to be updated based on regulatory changes that occur in your designated marketplace. You can use those libraries as a starting point to set up your own quality control and compliance workflows.
Furthermore, if all of your inspectors and suppliers are connected to the same platform, you can roll out updated standards and procedures with just a few clicks, ensuring that every part of your supply chain is operating on up-to--date specifications.
5. Establish a Clear Procedure for Vetting New Supply Chain Partners
It is critical that you have an accurate picture of every supplier you consider adding to your network before you give them your business. However, getting comprehensive and objective data about your potential new partner's operation can be time-consuming and costly, especially if they are located overseas. If you are choosing between several suppliers, the issue can be further complicated. For example, if their assessment was done by different parties, the results may not be comparable.
To avoid this issue, you can implement a standardized process for auditing new suppliers. Detailed, customizable, and ready-to-use templates are often provided by QMS software for this purpose. Additional TIC features help make the supplier vetting process straightforward and cost-effective.
6. Provide E-Training Materials
Delivering a high-quality, safe, and sustainably sourced product is a reflection of your brand. Your production must adhere to a slew of market regulations, auditing and certification schemes, as well as your own production standards.
With this complicated web of requirements to navigate, clear and consistent guidance for all parts of your supply chain is a vital part of your QMS.
By giving you and your suppliers' teams access to educational resources and training materials- from workshops and online courses, to step-by-step videos to guide QC operations in the field- you ensure that your brand's and target market's requirements are being followed consistently. This will contribute to lasting improvements within your own business and among your partners.
7. Leverage Your QMS to Drive Sustainability and Transparency
Today's consumers increasingly demand products with sourcing practices that align with their values. Buyers are loyal to brands that practice transparent, sustainable, and environmentally friendly sourcing and are prepared to leave those that do not deliver on the ethical front.
As customer satisfaction is among the ultimate goals of a well-functioning QMS, it makes sense to expand its reach to concerns of sustainable sourcing, supply chain ethics, and transparency. The good news is, the fundamental QMS tools used to ensure manufacturing quality and regulatory compliance- such as consistent standards, real-time data collection, supplier training, and more- can be effectively leveraged to monitor adherence to ethical standards and build a more resilient supply chain.
How Can QIMAone Help?
QIMAone is an intelligent quality control and compliance platform that offers a variety of tools you can leverage to improve your quality management system, including:
Real-time data collection from every step of your supply chain
Intuitive dashboards that offer you actionable insights and a 360-degree view of your sourcing network
Customizable inspection checklists specific to your product and market
Access to QIMAone Academy, a library of e-learning materials on quality and compliance best practices, and more
Furthermore, we provide ways to develop your quality management system that build on your existing resources, without the need to scrap or fully overhaul your existing supply chain management platform. To achieve that, we made sure that the QIMAone quality control and compliance software can be integrated with existing management tools and platforms, such as Product Lifecycle Management (PLM), Enterprise Resource Planning (ERP), and Warehouse Management Software (WMS).
Discover the many powerful features of QIMAone and see how , our software improves your quality management system.
Want to see our platform in action?
Learn more by scheduling a demo of QIMAone today.